Cascadepark West MARK
Almere, NL
| | |
| --- | --- |
| Type | Landscape design, public park |
| Design | 2021 |
| Construction | 2023-2024 |
| Location | Almere, The Netherlands |
| Size | < 1 ha |
| Client | VORM |
| I.c.w. | Groosman Architects, Donker Groep, Vivid Vision |
| Team | Eric-Jan Pleijster, Ulrike Jagert, Fanny Genti, Lea Hartmeyer, Mees van Rhijn |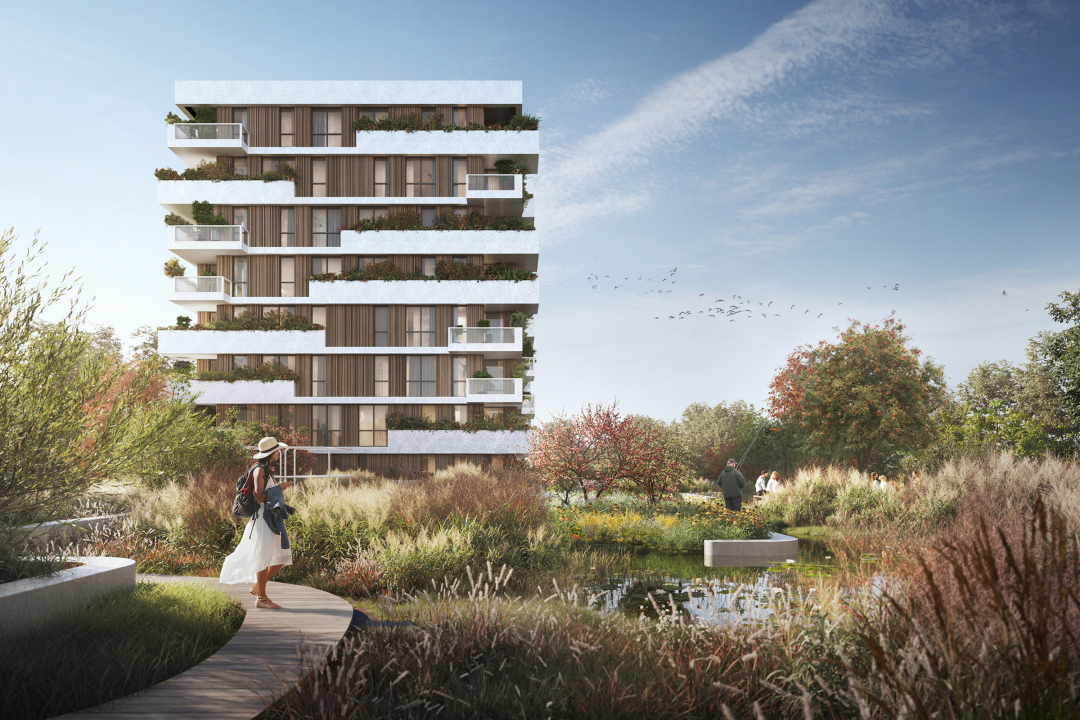 MARK is new residential development of 114 apartments in 2 towers of 30 meters situated in Cascadepark in Almere. Developer VORM, LOLA Landscape Architects and Groosman Architecten designed MARK as a natural wetland landscape with minimal impact on the park, while adding houses and an abundance of accessible nature to it. By a large majority of the votes, both the municipality and the residents have selected this project as the winning concept.
MARK fits seamlessly into the landscape, as if it had always been there. With a unique landscape mix of the Oostvaardersplassen nature reserve, the nearby Pampushout forest and the Cascadepark, it's situated in a fully-fledged natural landscape that has been devised on top of MARK's sunken parking deck. This 'wetland', which is made up of water, reed banks and decking paths, allows MARK to blend in its surroundings. At the same time, it adds an attractive natural landscape to the Cascadepark for residents and local residents, as well as plants, birds and insects. Eric-Jan Pleijster of LOLA: "The MARK rooftop landscape is accessible to everyone and, with all the water, trees and plants, is a valuable contribution to the Cascadepark."
MARK in old Dutch means 'common ground': a pleasant living space for residents and at the same time a common, green meeting space for the neighbourhood. A place where residents and local residents come together on the roof landscape. The sooner the better! That's why the delivery of the houses will be realized in just one year and is planned for Q2 in 2024.
Mark's wetland is more than just a seamless connection to the current landscape. It is a layered, functional concept for:
Water and energy. MARK's wetland is a marshland rooftop with a circular water system for water storage, whereby we keep as much rainwater as possible on the site. The water that falls here is purified by blooming lilies, irises and reeds. The marshland rooftop muffles the sound of parking cars and tempers both heat and cold. In addition, it offers a nice looking place for the production of solar energy and the water cools the panels. Sustainability is visible.
Natural facilities. Second, our landscape is a habitat for people, plants and animals. A natural intermediate landscape between forest and park. We use tree and plant species that also occur in the natural environment. Together they form a diverse landscape that provides shelter, nesting and feeding places for animals already found in the area, such as blackcaps and wood warblers. MARK thus broadens their habitat.
Community facilities. Thirdly, MARK's wetland is a meeting place. People gather here. Residents of the towers and nearby residents will find quiet, relaxing places to stay on their doorstep and come for a chat, read a book, or simply enjoy the buzz of birds. MARK thus brings landscapes, atmospheres and residents together. A social, climate-adaptive, nature-inclusive connector.