Sponsland Groningen
Journey through the landscape of the future
| | |
| --- | --- |
| Type | Research, publication, exhibition |
| Location | Groningen, The Netherlands |
| Research | 2020-2021 |
| Publication | November 2021 |
| Publisher | Platform GRAS |
| Editors | Peter Veenstra, Yttje Feddes, Peter Michiel Schaap, Tamara Ekamper |
| Design | Studio de Ronners |
| Contributors | Agence TER, Bureau B+B, FLUX, LAMA, MORE landscape i.c.w. VE-R, Hanze University of Applied Science, Tredje Natur, West 8, Peter de Kan, Marinke Steenhuis |
| I.c.w. | Klimaatadaptatie Groningen, Municipality of Groningen, Province of Groningen, Platform GRAS, National Programme for Groningen, Let's Gro |
Summers are getting drier and hotter, winters wetter. The seawater is rising, the groundwater is subsiding and the earth is shivering. Practically nowhere in the Netherlands does the climate challenge come together in such a concentrated way as in Groningen. Moreover, within about fifty kilometres here you find almost the entire Dutch relief and soil palette: from the high sandy soils of the Hondsrug and the peat soils of the Hunze Valley to the low sea clay areas along the Reitdiep and the high young sea clay of the Hogeland. This makes Groningen an ideal testing ground for climate adaptation and system change.
Sponsland is a manifestation (Groningen, January 2021), a traveling exhibition (September-December, 2021), a website and a 188 page book that zooms in on a section of the Groningen landscape. On the line from the Hondsrug to Schiermonnikoog, we encounter eight design locations: four in the city and four in the rural area. Selected by Yttje Feddes (Feddes/Olthof) and Peter Veenstra (LOLA), four Dutch and four international design agencies sketch a future picture of Groningen in the year 2120. These agencies have provided their plans with concrete steps, the first of which can already be taken tomorrow. The result is a perspective that not only solves the technical climate problems but also enhances the beauty of the city and its surroundings.
Sponsland has a significance that extends far beyond Groningen. The various media and the traveling exhibition translate all the acquired knowledge into generally applicable principles for climate-adaptive design. In this way, Sponsland aims to inspire everyone involved with climate adaptation. Parts of the exhibition can be seen at various locations and the full exhibition is on display in the city of Groningen during Let's Gro.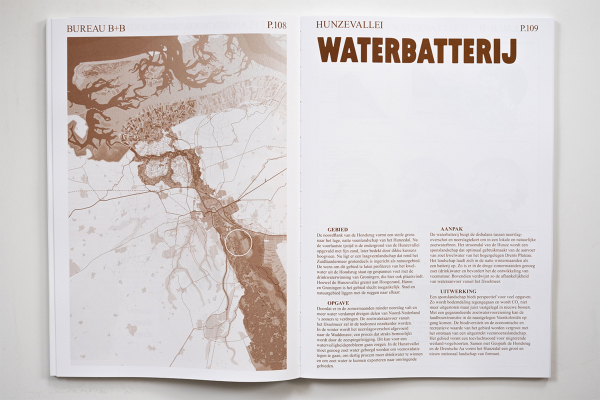 Sponsland Book
Journey through the landscape of the future

Editors: Tamara Ekamper, Yttje Feddes, Peter Michiel Schaap, Peter Veenstra
Authors: Yttje Feddes, Peter de Kan, Peter Michiel Schaap, Marinke Steenhuis, Peter Veenstra
Graphic design: Studio de Ronners
Book: Dutch, 24 x 34 cm, 188 pages, illustrated (full color). € 24,95, ISBN 978-90-71903-70-0. Platform GRAS.
Order: Platform Gras
Sponsland exhibition
15-30 September: Waterbatterij and 4 urban locations at Gedempte Zuiderdiep, Groningen
14-22 September: Zoetwaterbel in Het Baken, Schiermonikoog
27 September-8 October: Eetbare kust in Gemeentehuis Het Hogeland, Leens
13 October-2 November: Watererfgoed and Waterbatterij in Bezoekerscentrum Reitdiep, Groningen
5-7 November: Full exhibition at Let's Gro, Groningen
10-17 November: 4 national locations in Provinciehuis Groningen, Groningen
1-7 December, Waterbatterij in Provinciehuis Drente, Assen